All courses, including the Help sessions covered in the Timetable below are for Members only and require confirmation from the Tutor - Help sessions only, are exempt this confirmation. Not a Member - see the Join Now page. The timetables are updated on a regular basis and the search box makes your class dates and time easy to find.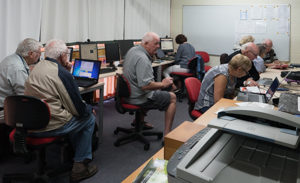 SeniorNet is a community learning network that supports and motivates mature people to enjoy and use technology in their everyday lives, join in the fun and learn how to do everything from understanding how to use your computer, working with basic documents, searching the internet, working with photographs, researching your ancestry, maintaining your computer plus much more. All courses are held in our Learning Centre, 12 Ben Lomond Crescent, Pakuranga. They are run in 2 hour sessions and some will consist of just the one 2 hour session while others will have several sessions and usually have a maximum of 8 students. In small, friendly and stress-free classes, you will gain the skills and confidence you need to get the most out of Information Technology. When considering and choosing courses it is important to think about what interests you and what you hope to achieve. Help is available from our experienced team if you are unsure how to proceed. To participate in the courses you must be a member of SeniorNet Pakuranga at an annual fee of $30 per member.  An additional fee of $5.00 per course day is then payable for each course. Course materials are included in the cost either in booklet form, or electronic format. All members are asked to wear their membership badge to all functions as a courtesy to others. At our learning centre, retired volunteers from all walks of life provide a wide range of courses across a range of computer platforms, so there will be a course available to you which will assist you in obtaining full benefit from your device. We also provide Help days 3 or 4 times each month for our members having computer problems or queries. We look forward to seeing you.
Confirmed bookings are required to attend courses.  
If you wish to make a booking,  go to the "Course Detail"  tab and
email or telephone the tutor.
Help Sessions - no bookings are required.
All columns can be sorted - click on the heading and use the search box.
| Start Date | Time | Course | Date Sorter |
| --- | --- | --- | --- |
| 19 Sep (Tue) | 2:00 PM | Google Mail | 230919PM |
| 21 Sep (Thu) | 1:00 PM | Help Session (No Booking Reqd.) | 230921PM |
| 26 Sep (Tue) | 10:00 AM | Help Session (No Booking Reqd.) | 230926AM |
| 26 Sep (Tue) | 2:00 PM | Smart Phones/Tablets (Beginners) | 230926PM |
Below - course details - content and booking information. Fees help cover overheads and course notes. Click on the headings below to expand into the range of courses that interest you.
All Course bookings require confirmation by your tutor. Confirmation is NOT required to attend Help Sessions.